What to Wear Under a Blazer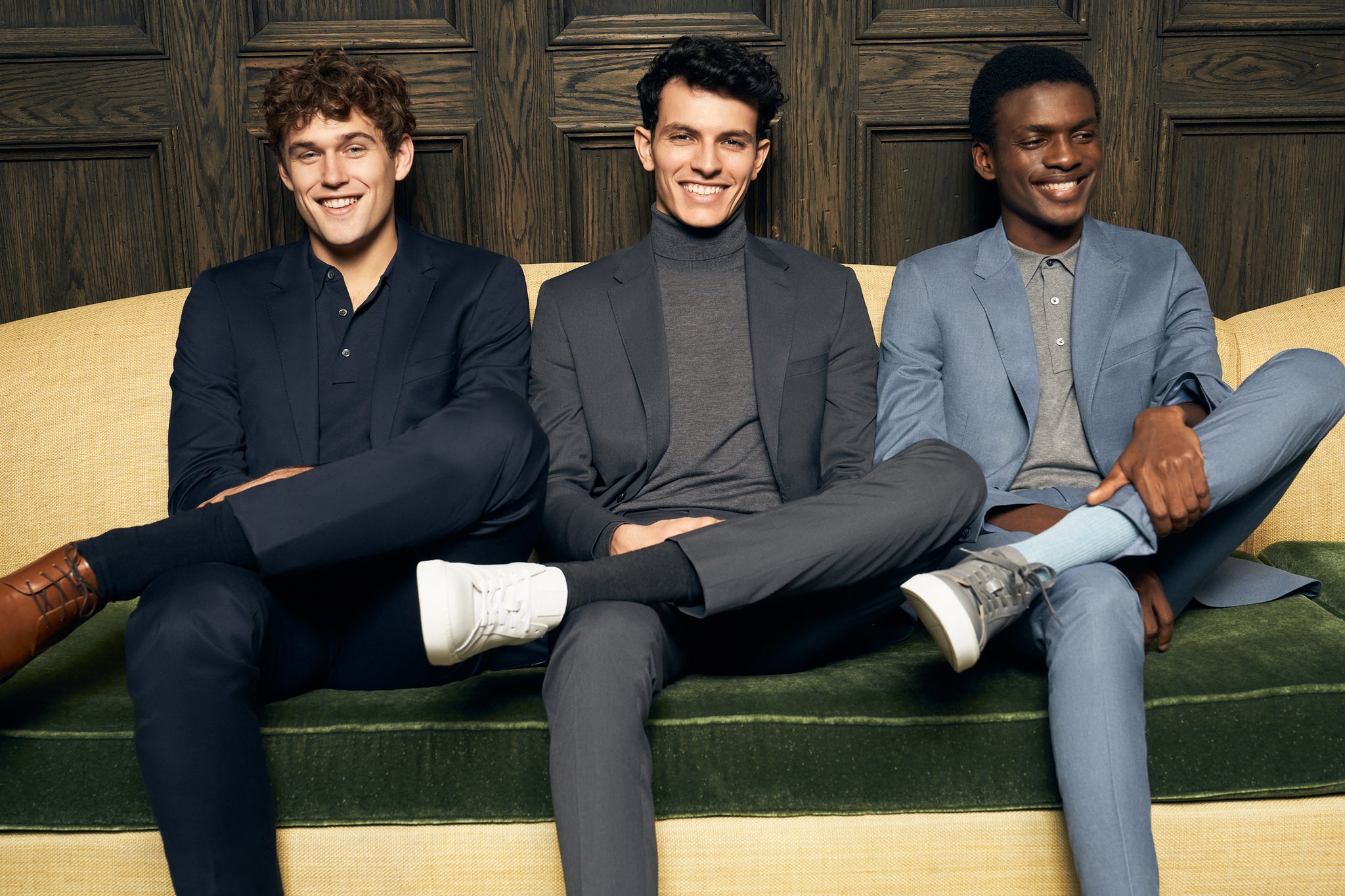 Whether you're buying a suit from SuitShop because you're a bride, groom, or groomsman, or because you have an event or interview coming up that you need to look sharp for, we hope these pieces become staples in your closet that you can wear again and again. While we've covered four ways to style your groomsman suit after the wedding, we want to take a deeper dive into suit styling; specifically the jacket, or blazer. 
You can never go wrong with a crisp classic white dress shirt, but we have a few more ideas for how to wear a blazer: 
Tank top 
No, we're not talking about the neon tanks you can buy on South Beach. Think a camisole for women or a men's solid tank in white, black, or navy. We recommend this look for occasions where you don't intend to remove your jacket. This lightweight vibe is perfect for spring through fall and pairs well with other accessories like necklaces and belts. For more women's specific recommendations, check out our article on what to wear under a women's tuxedo or pant suit.
T-Shirt 
The look of a t-shirt and jeans can be easily elevated by adding a sports coat with jeans. Pair this look with nice shoes like high heels, boots, or clean sneakers. Working from home all day but headed out to dinner at night? Grab a blazer on your way out the door and you'll be sipping drinks in style in no time. 
Polo Shirt 
Perfect for warm weather, polo shirts or short-sleeved dress shirts allow you to go from sophisticated to casual in an instant. This style is perfect for a baptism, special occasion brunch, or business trip. The material of a polo shirt is great because, unlike a cotton dress shirt, it doesn't wrinkle easily. You can even find moisture-wicking materials that are perfect for concealing sweat on hot days. This style pairs well with khaki pants or chinos and loafers or boat shoes. If you choose a short sleeved dress shirt vs a polo consider adding a tie or bow tie to complete the look. 
Sweater 
For those cold, winter days, layer a dress shirt, sweater, and blazer for a cozy casual outfit. This look pairs well with dark denim, wool, or corduroy pants and boots. Place a pocket square in the chest pocket of your suit jacket for an extra pop of style and color. 
Turtleneck 
Turtlenecks can be a really elevated way to style a blazer in winter or early spring. For colors, keep it simple with greys and blues. A light colored jacket like Textured Gray with a men's black turtleneck is a great look for your presentation at the office while a dark colored jacket like black or charcoal is perfect for date night. 

To be sure your suit is up for the task of repeat wear, check out our tips on how to take care of your suit and make it last. And, don't forget to show us how you're re-wearing your SuitShop suit by tagging us @suitshopofficial.