Should I wear a classic or contemporary suit for my wedding?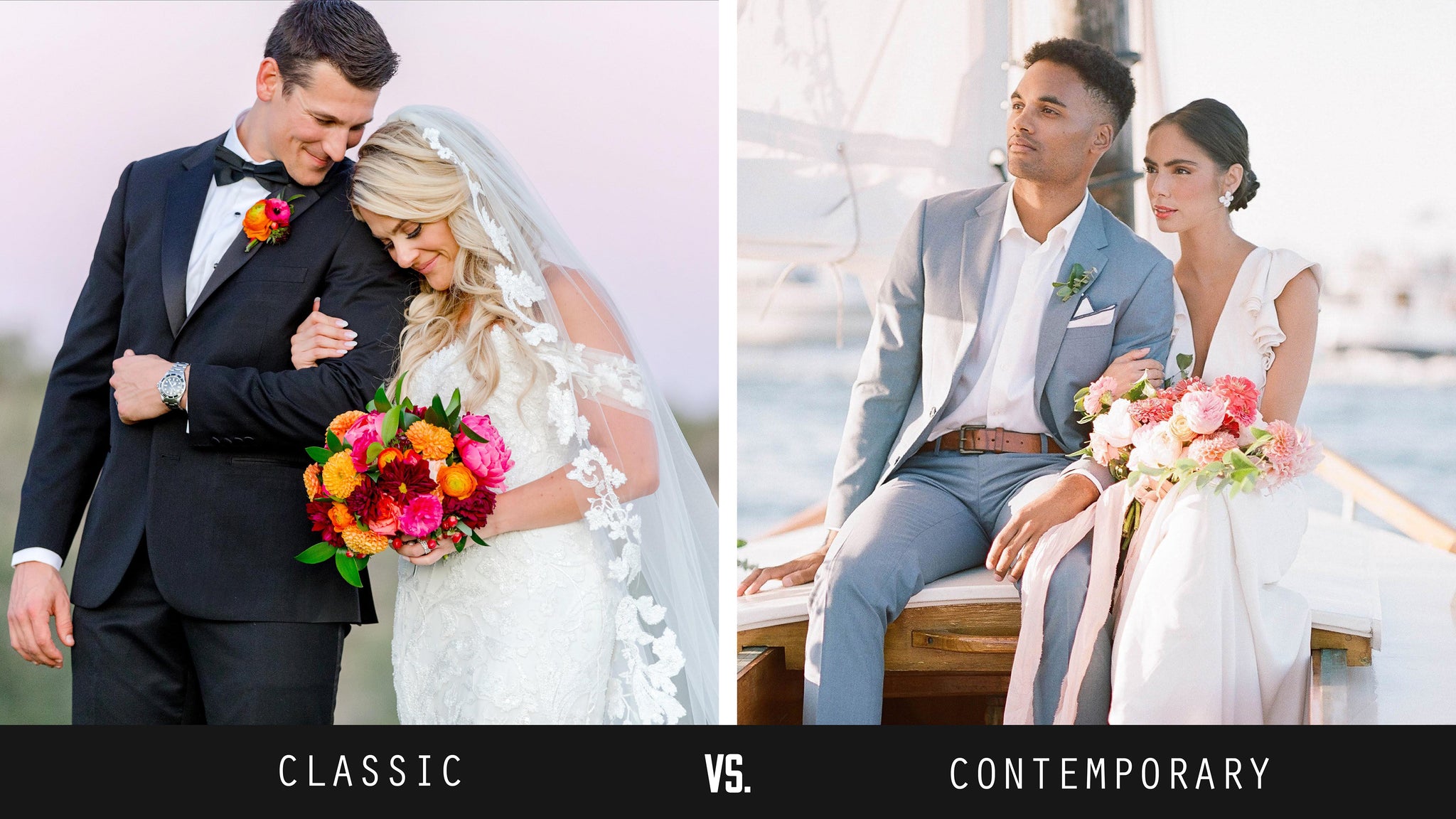 Q: Should I go more classic or contemporary when deciding on the suiting for my wedding?
A:This question usually arises when the groom and his fiance start thinking about the overall aesthetics of their wedding. Let's first break down the basics of a classic vs contemporary suit. 
A classic suit or tuxedo is traditionally navy, charcoal, or black. The suit can be worn as a three piece set with vest and has details like a double vent, notched or peaked lapels and is paired with a tie or bowtie. Your suiting shirt will be a french cuff dress shirt which will allow you to wear your grandfather's favorite cufflinks. 
A contemporary suit may be a bright and interesting light blue or light grey color. The suit will be worn as a standard two piece set and have details like a single or double vent, a notched lapel and either a patterned or  light-colored tie or no tie at all. Your shirt will be a classic button-up shirt and you can select colors or patterns other than white for contrast. 
One way to decide between a contemporary or classic wedding suit is according to your wedding venue. If you're getting married at a historical landmark or in a religious church you will want to go more classic with your suiting choice. However, if you are planning a destination wedding on a beach or at a barnhouse in the country, looking at more contemporary suiting would be best. 
Overall, it comes down to the vision you and your fiance have for your wedding photos. 
Here are a few suggestions to help you and your fiance decide on the perfect look: 
Ask each other how you would like to look on the big day, classic and traditional or fun and laid back? What best matches your personalities and what is important to you when you look back at your wedding photos? 
Search for three wedding looks separately and show each other your ideal looks. Find similarities and see where you are on the same page, and where you may have very different taste! 
Create your wedding color palette (Pinterest is a great place to start!). Request swatches of your suit color options and bridesmaids dresses and compare them to see which look best next to one another.  
The best part about TGS is that we are always here to help you choose the attire that will look and feel the best for your big day!
Visit us
at one of our showrooms or send us your wedding ideas via email to
info@thegroomsmansuit.com
and we will be happy to assist!