Q&A With Artist Pat Milbery- The Talent Behind Our Denver Showroom Mural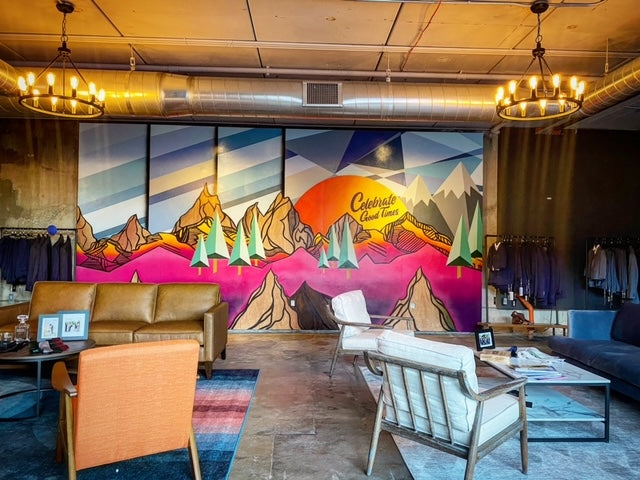 Pat Milbery is, above all, a creative collaborator. As well known for the large-scale murals he's created alongside some of the most prominent graffiti/street artists in the world as he is for the playful photo shoots and video parts he's participated in as a pro snowboarder. His vivid street art collaborations adorn the walls of dozens of boutiques, breweries, bars, and other businesses across the country, and he's helped curate and create major art installation projects for brands including The Denver Public Schools, the Downtown Denver Partnership, Visit Denver, The City of Denver, the RiNo Arts District, Pandora, the City of Paso Robles, Lyft, DEW Tour, Southwest Airlines, Stanley Tools, LIFEWTR, Mountain Dew, Cheba Hut, The Ford Motor Company, X Games, Budweiser, Zumiez, Loveland Ski Area, Blue Moon, Pepsi Center, Northern Colorado University Greeley, Declaration Brewery, Wahoo Fish Tacos, Academy 360 School, Denver University, and Pabst Blue Ribbon.
He's also the owner/founder of the So-Gnar Creative Division, an umbrella collective responsible for all of his mural projects, the Snowboard Camp Tour, the So-Gnar streetwear and apparel line he helps design, and lots of community based art projects. The So-Gnar Creative Division specializes in both large-scale public art as well as commercial work and have had the honor of working together with local communities to create works of art for all to enjoy. As Denver-based artists and creators, the chance to contribute color and vibrancy as well as add value to the community is what the So-Gnar Creative Division team lives for. Their goal with each project is to create a work of art that people from all walks of life can enjoy and take pride in. Milbery, Andre Rodriguez and the rest of the So-Gnar team design and implement high-quality art designs with subject matter that is universally enjoyed and timeless.
We were so luck to have him create art for us in our Denver Showroom and took the opportunity to get to know him and the meaning behind the design even more: 
Q: What was your inspiration for this mural? 
A: I would say to make life more colorful and fun. We are so lucky to have this one chance to be alive and have our health but also have this incredible opportunity to be creative and make our heart happy!! With the goal that it makes a lot of other hearts and people happy based on the energy that the art conveys and the very bright, welcoming color palette that I choose to use in my work.
Often times, when we are preparing for large events and life-changing moments like weddings we often times forget about the present moment and moments leading up to these big life changing events and focus on the destination rather than the journey. My hope is that this piece of art celebrates the moments of the journey that we worked so hard to create in our lives as experiences and great moments that should not be overlooked. 
My hope is that they can be celebrated and shared to understanding the joys that you're into building these large moments of companionship and beginning a new life together. Colorado is my heaven on earth! Each and every day the blue skies inspire me and my heart to live my best and fullest life and to spread as much positivity as I'm able to share. The sunsets in Denver are my favorite. I really love the city Based on the collaborative spirit and the energy we all share. That to me should be celebrated through art, creating culture through happiness and passion is what pushes us to all appreciate and enjoy life more together! I hope this piece of art inspires people to celebrate each moment of life and respect each other for the sole purpose that we are so lucky to be here in this incredible state growing and becoming collectively conscious.
Q: Why is this an important message?
A: This is an important message because my parents raised me to be respectful of others and and express myself freely. My mom taught me that creativity has no limits and I should never feel like I need to compromise but also be judged by what I was putting out there and be proud of the work that you're sharing and contributing to the world. All the woodworking and stain elements of this mural were inspired by a collection that my dad and I are working on together to keep growing as a father and son and also exercise our stress out through the creative process.
He was always a big teacher of losing my mind, my heart in my hands to build stuff that has meaning and that made you happy to share it with the world. If there's anything I can say to people and anyone out there reading this is that it's never too late to put effort into moments, your family or relationships that you want to build and improve. The moment is now and don't wait for something to happen rather make it happen because you never know what can happen until you try and put yourself out there. You're going to be judged and there's going to be haters, but ultimately just do what feels best inside in your gut and follow your heart because the only person that is really judging yourself as you.
It's really easy to say we want to do something and say we want to try to fix something and never act upon it but the feeling of acting upon your intentions and going into your day with love as the intention that you can add to the world is a really healthy exercise that I would encourage and see is the most important message of my creating and this piece of art for the space. And I hope it makes a few people smile and warm their hearts along their journey.
If you haven't been in to visit us yet, we would love for you to book an appointment to stop by! Don't forget to snap a few pics in front of this stunning wall and be sure to tag us @thegroomsmansuit and use #lovethiscitydenver #patmilberyart