Men's Wedding Style Q&A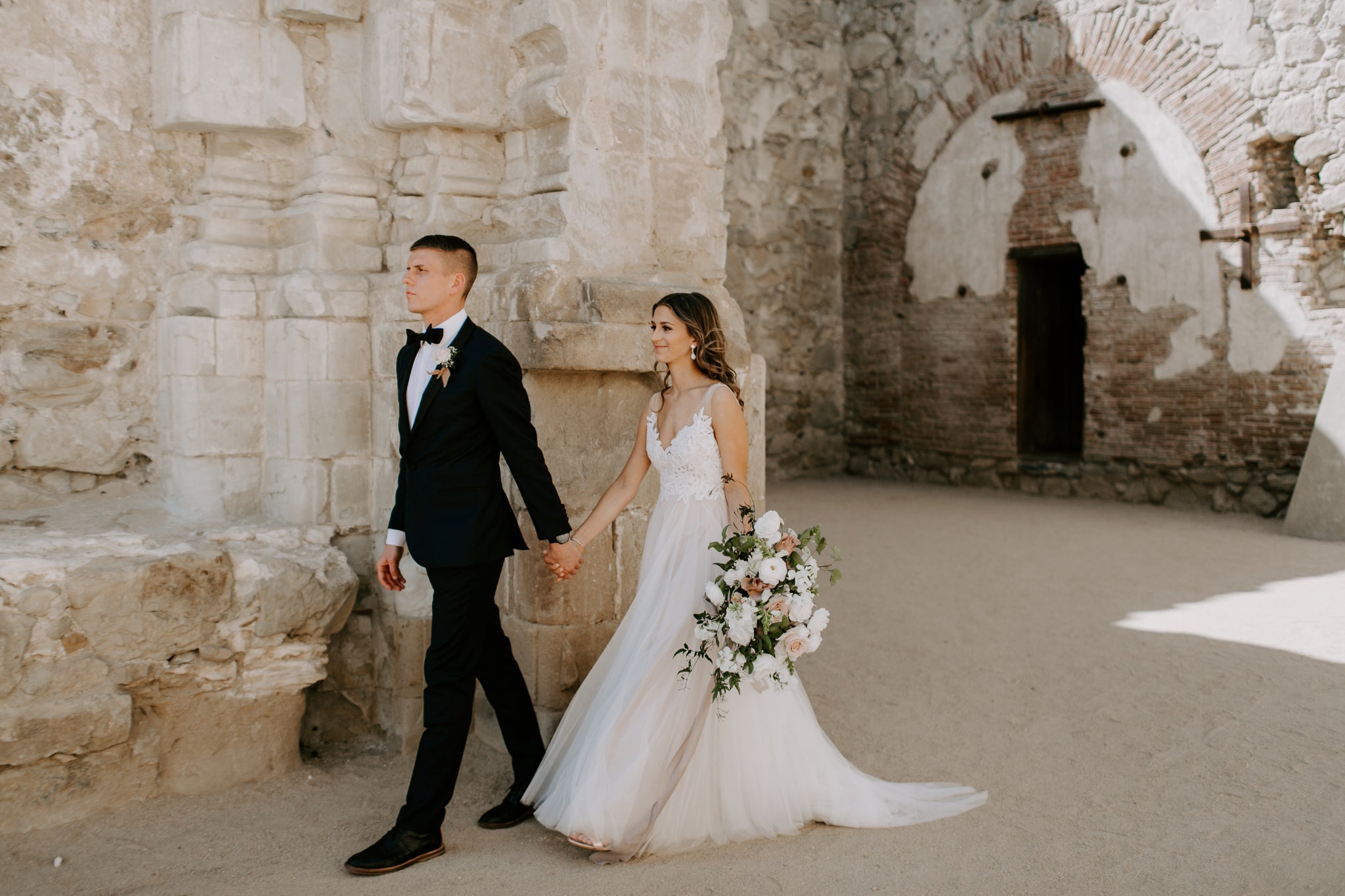 When getting ready for your big day, knowing where to start can be the most daunting part. From finding the perfect fit to making sure your wedding accessories are on point, there's a lot to think about. That's where we come in. Our mission is to help you look your best, take stress out of the equation and make it fun along the way.
To ensure we're giving you the best styling advice, we have Courtney Baldwin on our team. She and her husband wrote Grooms Book on groom style and wedding fashion for men. Recently, we caught up with her to go over the common questions you may have when you start thinking about wedding suits and tuxedos.
What is the best suit color for each season?
Fashion is very subjective, and there are no set rules on which colors to wear in each season. Many grooms pick a suit color based to fit the wedding's overall colors or even fashion trends. It's very common for black suits and tuxedos to be worn for weddings year-round (especially black-tie occasions). Though wedding suit color is important, it's more important to be thoughtful about is picking an appropriate fabric to match the climate where the occasion will be. Typically heavier fabrics like velvet are reserved for weddings in cooler climates and linen and linen blends for weddings in very warm climates.
How do you choose between a tie or bowtie?
Choosing between a standard necktie and bow tie is mainly based on the guy's personal preference.  When wearing a tuxedo, guys traditionally wear a bow tie and when wearing a suit, a necktie, but there are no hard rules when it comes to these wedding accessories.  If you want you suit to look more formal, choose a hidden placket shirt and a bow tie. And if you are going to opt for a bow tie, as a gentleman of style, we recommended you purchase a self-tie bow tie and learn how to tie it.
Should you have a pocket square?
A pocket square is both a decorative and functional detail for a suit. It is optional, but if you decide to wear one, it's common to use a classic plain white cotton or linen one for a wedding-day look, folding it into a presidential/square fold (which is the most formal). Your pocket square could also double as a handkerchief if you happen to shed a tear on your big day. If you prefer a color other than white, don't match the tie and pocket square exactly. This will make you look like you're going to prom rather than to the altar. Typically, a patterned pocket square should have a hint of the tie color in its pattern but not match it exactly. So have fun with pattern play. But if you'd rather do without a pocket square, that's perfectly fine too.
What should the length of my pants be?
The "break" is where suit pants fall in relation to your shoes. There is no rule on what the break should be. It's up to you. With slimmer pants, it looks neater to have minimal (1/4 to 1/2 inch) to no break.  And for weddings, it's never a good look to have extra fabric pooling at your ankles.
What color shoes should I wear with my suit?
There are no hard rules for shoe color. It really depends on how you're styling your suit and the other elements of your wedding, including the venue and time of day of the wedding. If you do happen to settle on a navy suit and are caught up in the black vs. brown shoe debate, check out our guide to picking the right pair for the occasion.
Suit or tuxedo?
The most important thing you want to consider when deciding between wearing a suit or tuxedo for your wedding day is the level of formality of the occasion. This is typically determined by the wedding venue or location and most often falls within one of five categories: casual, semi-formal, formal, black tie, and very rarely white tie.
Also, the only thing that distinguishes a suit from a tuxedo is the addition of satin or grosgrain on the suit jacket lapel, jacket pocket trim, buttons, pant waistband and pant outseam trim.
Can I wear khakis with the jacket from my suit?
Yes, but it depends on the fabric of the khakis and how the color of the khakis complements the suit jacket color. When picking khakis to pair with your TGS jacket, you'll want to choose ones that are made of similar material as your suit. A cotton wool blend would probably be better than 100% cotton. The sheen will be closer to the TGS suit and more wrinkle-free.
What other questions do you have for us? DM us on
Facebook
or
Instagram
.