How to Write a Best Man or Best Woman Speech in 5 Simple Steps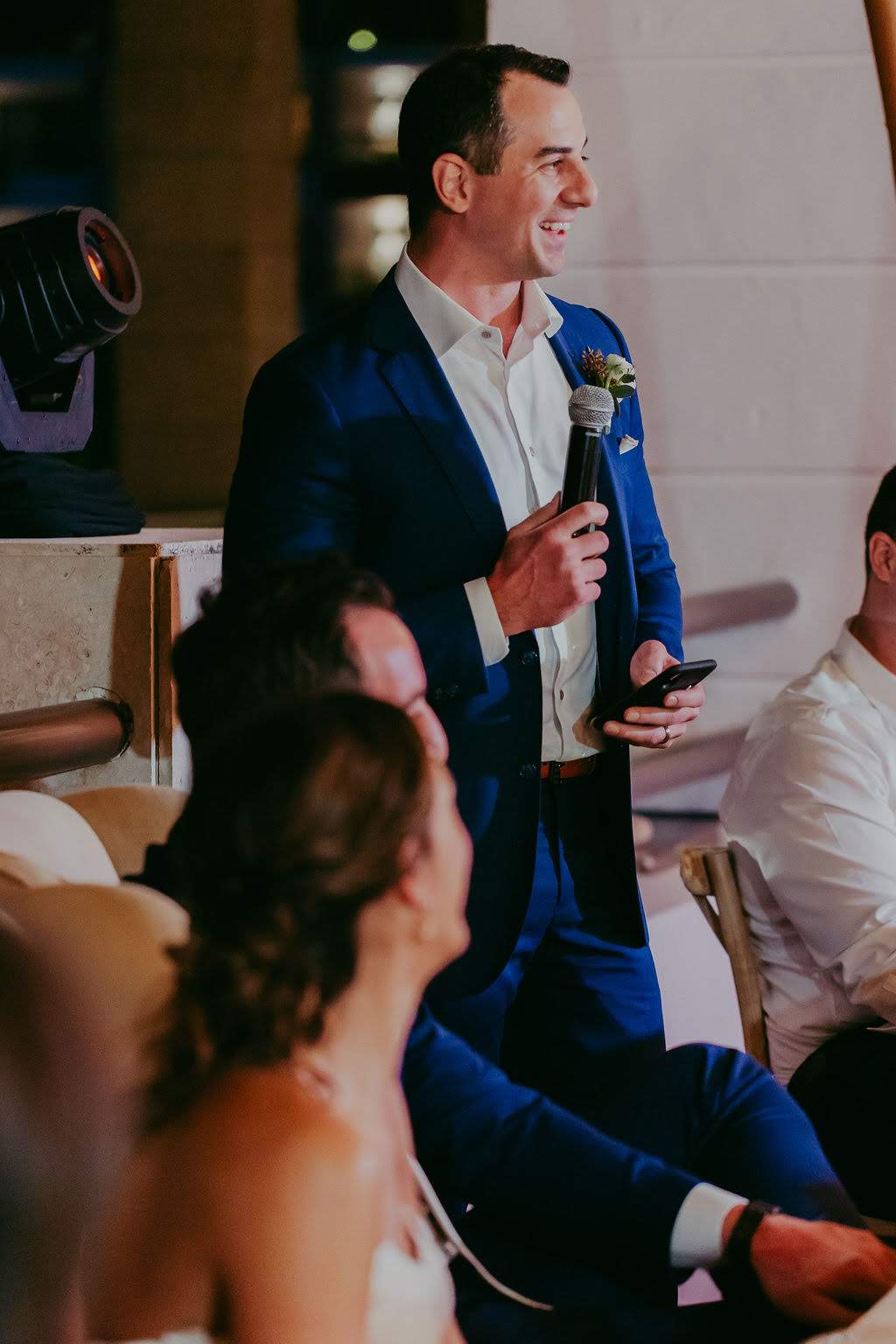 A lot of responsibility comes with being part of the wedding party. Perhaps the most stressful is being tasked with writing and delivering the best man or best woman speech.
As a professional wedding speech writer, I have created a simple 5-step wedding speech outline that will make writing your speech anxiety-free and easy. 
Step #1: Introduce Yourself
Most people procrastinate writing their wedding speech because they're overwhelmed with how to begin. 
This first step makes it more accessible. 
Simply introduce yourself by stating your name and your connection to the groom.
For example, "Good evening! My name is Richard Jones and I'm the Grooms's best friend and college roommate from our days at the University of Michigan ."
Step #2: Tell 2 - 3 Stories About the Groom 
The key to a strong and best man and best woman speech is through great storytelling. 
Prepare two to three stories that expose fun characteristics of the groom. Each story should serve as a vehicle to celebrate another positive trait of his. 
For example, you can tell the story about how the groom still wanted to cruise around on motorcycles while you two studied abroad in Spain despite the torrential rain. 
This story is entertaining and it shows how the groom is always ready to have fun, no matter the conditions. 
And remember, brevity generates humor. You may want to deliver a funny best man speech, but keep each story between 30 to 60 seconds each. 
Step #3: Talk About His New Spouse 
While your speech will focus on the groom, be sure to talk about his partner too. 
For this section, detail out qualities you admire in them and describe why you think they are the best partner for your friend.
This is also the ideal section to tell one story about the groom's new spouse to further illustrate their qualities you admire. 
Step #4: Share Your Wishes for the Couple
As you start to wrap up your best man or best woman's speech, include one to three sentences that describe what you dream for the couple. 
What kind of marriage do you hope they have? How do you want the groom to feel throughout his marriage? 
Step #5: Close with a Toast 
Be sure to end your speech by asking guests to raise their glass. Your last line is sure to be the one that guests will actually remember so make it strong. 
Avoid cliches and instead design your last line so that it ties back to a theme from earlier in your speech. This will allow you to achieve the greatest emotional impact. 
Do you still need help with your best man or best woman speech?
Get in touch to see how we can collaborate to write a killer speech that will impress the couple and their guests. And, don't forget to check out TGS's checklist of best man duties.