How To Rep Your Alma Matter On Your Wedding Day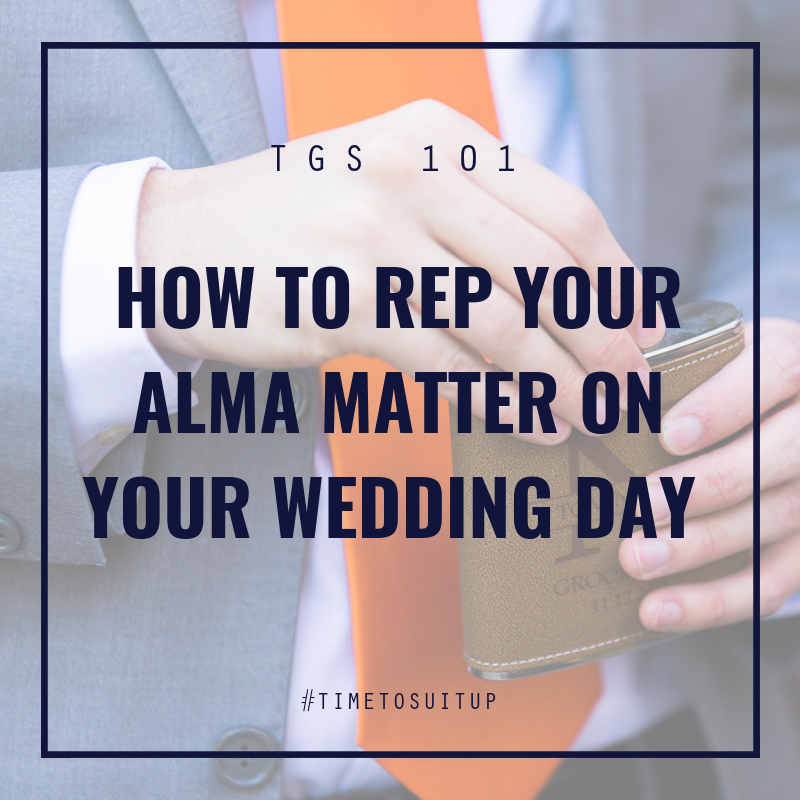 College football season is officially back, and everyone's Saturdays are once again reserved for tailgating, game-day parties and school pride. While caps, koozies and tees with the emblem of your alma mater are all welcome when game day comes around, you can also tastefully incorporate those iconic school colors into your wedding theme. It's just one more way to showcase your personality and put a unique twist on your wedding style. Not sure where to get started? Here are a few subtle and sophisticated ways to incorporate your school spirit in your wedding theme. 

Style Them into the Details
While we don't recommend big moves like bright red suits with black button-ups, we're all about using the details to add a pop of personality to your style without being distracting or gaudy.
 
Ties: The simplest way to incorporate your school spirit in your wedding style is to show it off front and center with a patterned bow or neck tie that includes the school's main colors, or by picking a solid tie that boasts only one of the colors while the others come through in the boutonniere arrangement.
 
Boutonnieres: However, the boutonniere itself can also be the standout detail that pays homage to your alma mater. If you're looking to show school spirit in a more subtle way — keeping your wedding suit and tie more traditional to fit a more formal wedding — this may be the best choice for you. Incorporating school colors into the flowers is also a great go-to choice for college sweethearts since the colors of the groom's boutonniere and the bride's bouquet always coordinate.
 
Socks: Where you'll possibly be able have the most fun, though, is with the socks. They'll add the perfect splash of color and game-day energy you're looking for. Find a pair patterned with your team's logo or mix and match colors for a playful look.
 
Just want one touch of school pride for the whole wedding crew? If you and your groomsmen are fraternity brothers or pals from the same university, wear matching college-themed cuff links to add a small yet eye-catching detail that does the job.

Outside of Attire
If you don't necessarily want to make any bold style choices for your outfit but still want your big day to have a jolt of school spirit, there are a few easy ways to rep your team through other details. Want to go big? Design the entire cake around your school colors or even incorporate the logo or mascot on the top. If you don't want to dedicate your wedding cake to your school, though, you can stay on the sweet-treat route and gift guests college-themed cookies as wedding party favors.
 
Another classy and beautiful way to display your wedding color theme is in the decor. You can integrate them into the decor in a number of ways — from accents on the guest table to escort cards that assign your guest a player and jersey number to the colors of the bouquets at the reception tables. You can even add pennant flags alongside your wedding flowers.
 
If you plan to show some school pride at your upcoming wedding, snap a photo of those colorful details and tag us on Instagram or Facebook for a chance to be featured on our social accounts.