Five Steps to Finding a Great Fitting Suit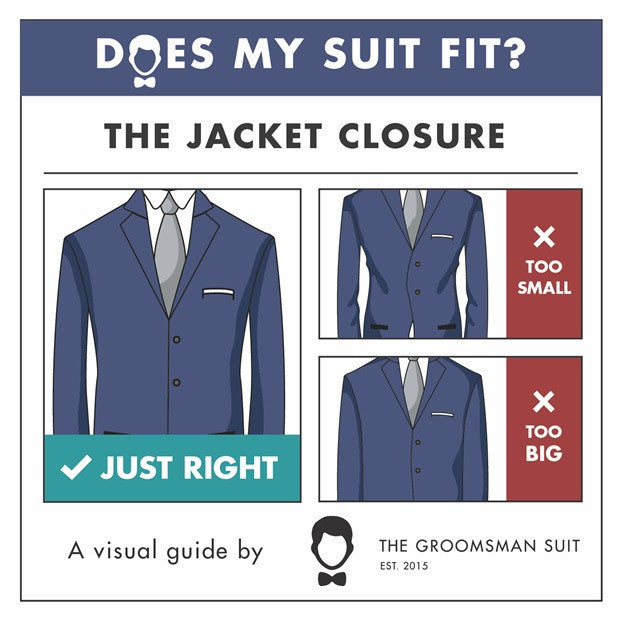 For the longest time, high-end brands have made us believe that the only way to look sharp in a suit was to spend at least $500. We're here to debunk that myth and have proved several thousand times that the key to looking sharp really comes down to the fit and construction of the suit, not the price tag. When you nail the fit in an affordable suit, no one is going to ask you what the thread count is or if it is full canvas. Instead, they are going to give you a pat on the back, tell you you're lookin' good, and ask you what your workout plan is these days as you head to the bar.
The key to getting suited up can be broken down to five steps. For any tailor, these are the most important components of custom suiting. You nail these and you've found an excellent fit.
Shoulder Fit: Proper jacket fit begins at your shoulders. The seam on the top of the shoulder should meet the sleeve where your arm meets your shoulder. Poor fit here will cause lumps or wrinkles in the shoulders and top of sleeves.
From the back, the material of your jacket collar should lie flat against your shirt collar. Your jacket is too big if there are gaps between the jacket and shirt collar. When a jacket is too small, the material on your upper back, just below your jacket collar will bunch and pucker. Because this is the hardest alteration to make after construction, a jacket with a poor shoulder fit should never be purchased.
Jacket and Sleeve Length: The body of your jacket should fall right around the middle of your hand, at or just past your knuckles. From the front, it should end very close to the bottom of the zipper on your pants. For most men, your sleeves will end at just about your large wrist bone with about a half inch of shirt cuff visible. If you have abnormally long arms and/or torso, you may find yourself having to decide between the length of your jacket or length of your sleeves. In this case, priority goes to the length of the body of the jacket because modifying that is far more complex than adjusting sleeve length. Arm length can vary and sleeves can be easily extended or shortened by a tailor.
The Jacket Closure: A jacket should close without deep wrinkles radiating from the closure. A slight opening at the bottom of the jacket is fine, but a large triangle of the shirt below the button and above the pants should not be visible. Alternatively, you should not be able to pull the jacket more than an inch or so off your chest and torso. If you can, it's too loose.
To test the jacket fit, button the top button to see if the sides of the jacket meet neatly. If too loose, the lapels will hang forward and when the jacket is too small the lower edges of the jacket will flare out.
Pant Fit: While pleated pants are making a comeback in some circles, it's best to go for a flat front pant. It is a more streamline look that will be flattering in photos. Suit pants should fit nicely around your waist so you don't have to wear a belt if you don't want to. Formal pants will sit higher on your waist near the top of your hip bones.
Proper fitting pants will slightly hug your hips and butt, but not so much so that the pockets will pop out and/or you can't sit in them. Worse than a little too snug, is sloppy. If they are saggy and have to wear a belt they are too big. You definitely don't want them splitting or slipping down on the dance floor!                                                                                            
Sometimes men with muscular legs have a hard time finding pants that fit their thighs and waist. You should be able to pinch an inch of fabric off either side of your thigh. Dress pants can run a little small so don't be afraid to go up a size to fit your thighs and butt. A tailor can easily take in the waist of the pants to give you the perfect fit.
Pant Length: The "break"is the fold or bend above the cuff of the pant created when the fabric of the pant is longer than your actual leg. A pant line breaks or kinks near your shin when the cuff meets your shoe. A man's pant break is very specific to their personal preference in how they prefer their pants to look when standing still or walking.  The current trend in slim fitting suiting is to have little to no break for a really crisp, clean finish.
The key to nailing the right pant length is to go to a tailor and have the pants tacked while wearing the dress shoes you intend to wear. If you are on the shorter side, no break is recommended as it will make your legs look longer. If you are very tall, a slight break can still look sharp and will give you a little extra length to prevent your pants from hiking up too much when you are sitting or walking.
A tailor will typically ask for your pant length preference and it is important that you are specific since they have many customers with a wide range of requests. Oftentimes, they will recommend a length to you, but it will most likely be THEIR preference and very different from what you want. Don't hesitate to bring a picture or two of pant styles you like to help them visualize the look you want to achieve.
Once the pants are pinned, ask if you can sit down and take a few strides towards a mirror. Make sure you like the way the pants look while standing still, walking and sitting. A great hem can make all the difference in creating a tailored look if you take the time to communicate and thoroughly test your pants while they are pinned.
In general, it's important to understand how the brand of suiting you prefer designs and builds their various fits. These days, most brands carry a modern/regular fit and a slim fit. Fit types are designed for different body types. Those with a chest to waist ratio of less than six inches have a straighter shape and more equally proportioned chest, waist and hips will probably find a modern fit more comfortable as it is less tapered in the waist.
The slim fit is generally designed for men with a larger drop. Somewhat of a reverse from the modern, a candidate for our slim cut tends to have broader and/or more muscular shoulders and leaner legs. If you've ever heard a guy describe their body as being more V shaped, this is what they are referring to. Slim cut jackets offer more room in the shoulders and a narrow waistline.
At The Groomsman Suit, we believe the worst thing you can do is force yourself into a cut that is unnatural for your shape. The best thing you can do is find a reliable brand with different cuts selling their suits as separates. By mixing and matching the jacket and pants, you will find the perfect combo that gives you a custom fit. We started selling our suits as separates from the very beginning because we knew groups of groomsmen and bridesmen come in all shapes and sizes. Fit is key to looking sharp in a suit or tuxedo, which is why we offer over 60 sizes in every style across two fit types and four lengths. We are really proud to be one of the few brands making affordable suits a reality for every man!