Finding the Perfect Suit for The Big NYE Bash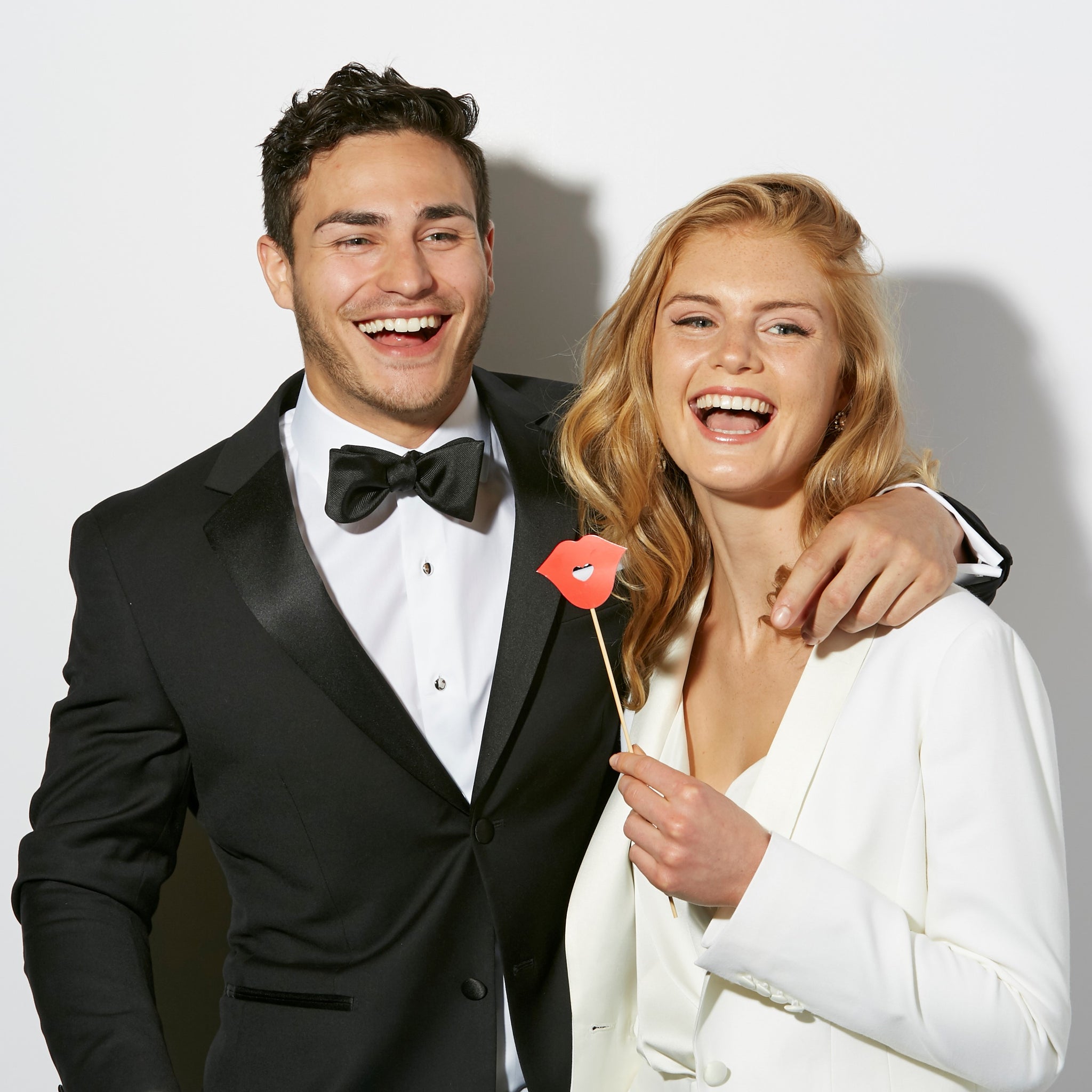 The ball is dropping virtually this year, so no crowds of strangers jostling up against you in Times Square or any other big city to-dos on the event calendar.
But if you and your Covid bubble friends and family are getting together, there's no reason not to look your dapper best for a small intimate party. 

Or:

You could also have a huge virtual dance party or, if your neighborhood is warm enough, draw some big chalk circles at least six feet apart on the asphalt, don a mask and make sure families keep to their circles to dance in the New Year.

However you're planning on ringing in the New Year, consider how you can do it in style.
Classic Black
A sharp black suit is never a bad idea. You can go with a minimalist approach by taking the classic black suit and leaving the jacket open and unbuttoned.

Tuck in your shirt whether you go with a traditional button down white dress shirt or with the on-trend mod look of combining a plain white t-shirt with a black suit casually worn.

If your event is more dressy, stick with the button down and a tie. A bowtie is also a dashing touch that can show off your personality. 


Traditional Navy
Go navy and that subtle color will let you build on its great foundation. 
Dressing down your navy suit is a definite fashion do, but you can easily get it wrong. 

Esquire dictates that you "opt for something with both a slim fit and narrow lapels - you don't want to overcrowd the simplicity of the t-shirt, which should always be kept in a neutral shade without any branding whatsoever. When it comes to trainers, white and high quality leather are the only way to go. And be sure to have your suit trousers cropped above or right on the ankle. Pooling legs become even more apparent when draped over bright white trainers."

So make sure your suit fits well and don't choose your battered old reliables when it comes to footwear. We can help you with that!

If you decide to stick to a traditional look with your navy suit, add some sensational textured socks in a vibrant color that goes well with navy. Or add a pair of leather shoes that have a splash of artsiness. 
Photo Cred: Glass & Grain Photography
For Women
There's something about a white or black tuxedo that makes everyone stand out. Maybe it started with Marlene Dietrich when she strolled out in a tux in the 1930 film Morocco, but there is something so posh about a tuxedo for men or women.

A vogue look is a white or black tuxedo with a lower-cut minimal camisole or just wearing the jacket as the top. It's a dressy look that doesn't take itself too seriously.

In Harper's Bazaar, designer Paul Smith describes it this way, "This is just my opinion, but tuxes worn by women seem to suggest an independence, and also a confidence of a sophisticated someone who doesn't necessarily need to do something overtly sexy to draw attention to herself. It says that you have an interesting mind and a good conversation. Tuxes and suits are worn by women on the move, who want to get on with things. They're not looking for a symbol or sign to say, 'look at me, I'm sexy.' They don't need that extra validation. They're just saying, 'I am me.'"

White or black are equally dressy and appealing, but a winter white can be an elegant way to ring in the new year with a look of seasonal snow.
Photo Cred: JJ Ignotz Photography
Accessories
Don't forget to add those details that make your outfit sing! We all know the saying--accessories can make or break an outfit. Our men's suit accessories help take any standard suit to the next level, with an attention to detail to make you stand out from the crowd. 

From a coordinating suit vest to the perfect pair of suspenders, suit accessories can help elevate any wedding day style. 

And can we suggest a pair of socks with polka dots? Because what's a New Year's party without a dash of fun?

Photo Cred: Amy Mulder Photography
Happy New Year, friends! Let's make it a great one.