Men's Winter Wedding Attire: Style Guide & Tips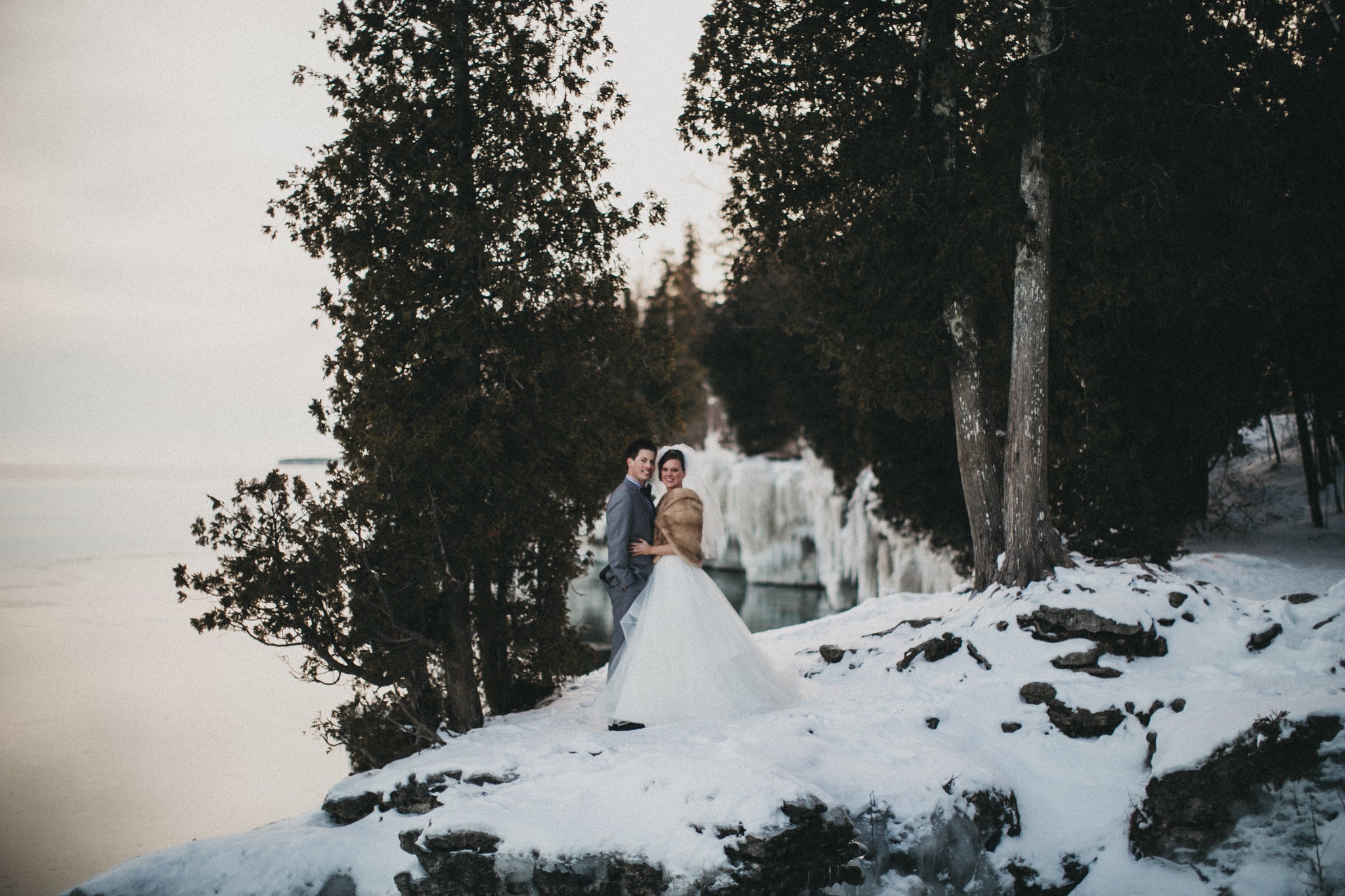 While we love swiping through the photos of autumn weddings dotted with the trees' fiery reds, oranges and yellows, winter will be here before you know it so it's crunch time for the guys who are in winter weddings. Each season comes with unique opportunities to show off your personal style and make the big day unforgettable with every detail. If you're escaping the cold and planning a warm destination wedding, be sure to read our guide on destination wedding style for men. However, if you're embracing the snow and prepping for a wintry wedding, here are a few tips and trends that will help you make your groomsmen and bridesmen stylish and memorable.

The Main Look
If the warmer seasons are known as the seasons of brilliant blue, the cooler seasons — and especially winter — are the times of year to hit up the neutrals. If you expect a snowy backdrop on your big day, and you've settled on an elegant and sleek winter wedding aesthetic, a black tux is always a great option for your groom style. If you want something that's less formal but still sharp, you can't go wrong with an icy grey suit paired black shoes for your winter wedding look.
When you choosing your suit color, you'll want to consider the venue and how much time you'll be spending outside. If wedding photos are going to have you standing outside in the cold for a while, consider a three-piece suit for more insulation. Some grooms even swap the vest for a sweater layer underneath their jacket — like a black or white sweater under a grey suit — for an informal yet classy look. It may sound off the beaten path, but it can add a layer of charm and a personal touch to the overall outfit. You can also tastefully incorporate patterned scarves and jackets into your wedding-day attire as practical and stylish accents.
 
If your wedding falls closer to the holidays and you want to sneak a few festive details into your look, add cranberry reds, pine elements, silver and/or gold to your socks, boutonniere, cufflinks or other accents as a subtle nod to the holidays.
 
Texture Continued
We've talked before about the texture trend taking the wedding world by storm this year, and it continues for winter weddings. While the ladies often incorporate faux fur into their winter ensembles, velvet is the material of the season for the guys. And this year, grooms are taking it a step further. It isn't just about velvet shoes. Velvet tuxedo jackets are in — as the main look or a second one. Yep, the guys are getting two looks these days too, so if you need something more traditional for the ceremony but want to jazz it up for the reception, put a thoughtful collection of jackets together to transition through.
 
Winter is also one of the best seasons for textured boutonnieres. Swap flower-heavy arrangements and opt for woodsy elements like seasonal berries, pine leaves, branches and feathers. If you are a fan of the blooms, though, red and white roses are winter wedding favorites and pair nicely with succulent elements, lambs ear or pine accents.
Another simple way to incorporate wintry texture into your wedding ensemble is by wearing a textured tie. Tweed wool ties give your look a rustic or vintage flair, though some grooms can also pull off knitted ties as well. If you're going to try this, it's important to make sure the overall outfit is cohesive and that you're not including too many elements. That means paying attention to the pattern of your scarf (if you decide to wear one), the texture of your tie and the color and texture of your boutonniere and how each of them works with your wedding suit or tuxedo.

The Setting
Wintertime is a time of gathering, coming close and finding warmth together, which is one of the reasons we love the winter wedding season so much. Though it may be bitterly cold outside, you can bring warmth and charm to your big day by picking the right setting and adorning it stylishly.
 
We love a woodsy venue for winter. The warm browns create a beautiful rustic space to say "I do." These kinds of venues look impeccable accented by neutral-colored decor and bursts of white, green and gold. Lush wreaths over the welcome table or table accents like gold glass candles or lanterns bring the beauty of the season to your venue. If you want to go the more modern route, try an all-white monochromatic look to brighten up your wedding reception even when the days are short.
 
Beyond decor, you can also incorporate some fun seasonal elements into your reception. Set up a hot cider or hot chocolate bar for guests or spice up your wedding cake with seasonal flavors like cinnamon or cranberry orange. You can even give away seasonal treats or laser engraved wood ornaments with guests' names on them as wedding favors.
 
Looking for more wedding inspiration? Check out this article on our top picks for groomsmen gifts or keep up with us on Instagram to see how real TGS grooms suited up for their winter weddings.
Winter wedding photography by Uttke Photography & Design
Boutonniere photography by JJ Ignotz Photography