Common Shoulder Fit Issues and Alteration Solutions for Your Wedding Suit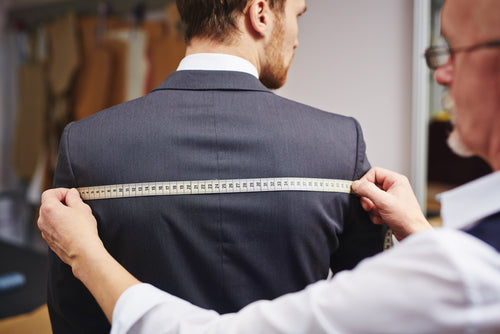 As a sequel to our Guide To Jacket Alterations, we're taking a deeper dive into shoulder fit issues you might experience with your suit jacket. Because nailing the fit in your shoulders and chest is the number one rule to finding a great fit in your wedding suit, we wanted to shed a little more light on fit issues associated with this part of the jacket and offer solutions to fix the fit.
Oftentimes, poor fit in your jacket can been seen more clearly than can be felt. For that reason, we've put together the following list of visible signs of fit issues in the shoulder area of your suit jacket:
Visible Ripples Along Shoulder Seam - This is usually because your physical shoulder shape is not supporting the natural angle of the jacket. When there is space between jacket and the curvature of your shoulders, the fabric covering your shoulders will ripple and be loose because your body is not filling out the shape of the jacket. Fortunately, there is an easy fix by simply adding support such as an additional shoulder pad layer to help fill out that area and smooth the shoulder seam.
The Pointy Shoulder - All jackets have a specific slope or angle from the neck seam to the armhole seam and this part of the suit jacket design can be really specific to the brand. If you have a more sloped shoulder shape, the jacket shoulder can appear to stand up and away from your body. You have this issue if you can easily pinch the excess fabric between your fingers before reaching your actual shoulder. This is very difficult to alter and adjusting your suit jacket's shoulder slope can be very costly. Sometimes, this can be solved by going down a size in the jacket because the shoulder of the jacket is too long and extends beyond your body. If going down a size will cause other major fit issues, you can add some padding to help fill in the space between the garment and your body.
Wavy Shoulder Seam- If you notice some bubbling and waviness that appears only along the shoulder seam, this could be a construction issue caused by poor manufacturing. While it is rare, there can be inconsistencies in the production of garments. First course of action when you see wrinkles stemming from the shoulder seem is to request a jacket exchange for a new one in the same size. Oftentimes, this issue can be solved by simply swapping it for a jacket with better construction. If a new jacket doesn't fix the issue, then you may be experiencing ripples from the shape of your shoulder as noted above.
Divots At The Armhole/Sleeve- With wedding suit jacket trends becoming much more fitted, men are experiencing this fit issue more and more frequently. The shoulder of your jacket should hit right at the physical shoulder on your body. When the jacket extends beyond your shoulder, the sleeve tends to drape off and can make you look like you're wearing your dad's oversized jacket. If the seam is hitting right at your shoulder, the sleeve should skim your bicep comfortably. When the shoulder of your suit jacket is too narrow, your bicep will push too much against the sleeve's fabric and cause a divot on the sleeve where the shoulder seam meets the sleeve. This can usually be solved by going a size up in the jacket to give yourself additional length across the shoulders and upper arms.
At The Groomsman Suit, we are committed to helping our customers find a fit they look and feel sharp it. We offer free exchanges and returns to make sure you have the best sizes. Additionally, our team of stylist are always willing to talk through any fit issues. For assistance, contact us and please include details of your fit issues/preferences, body type, and even pictures of you in the suit (with shirt and shoes on) to help us offer great advice on whether or not you need an alteration and best course of action. To ensure you are prepared for your tailoring appointment to have your pants hemmed and anything else that might be needed, you can refer to our Checklist to nailing your tailoring appointment.