Chris and Michele's Spring Florida Wedding. See our textured gray suits in action!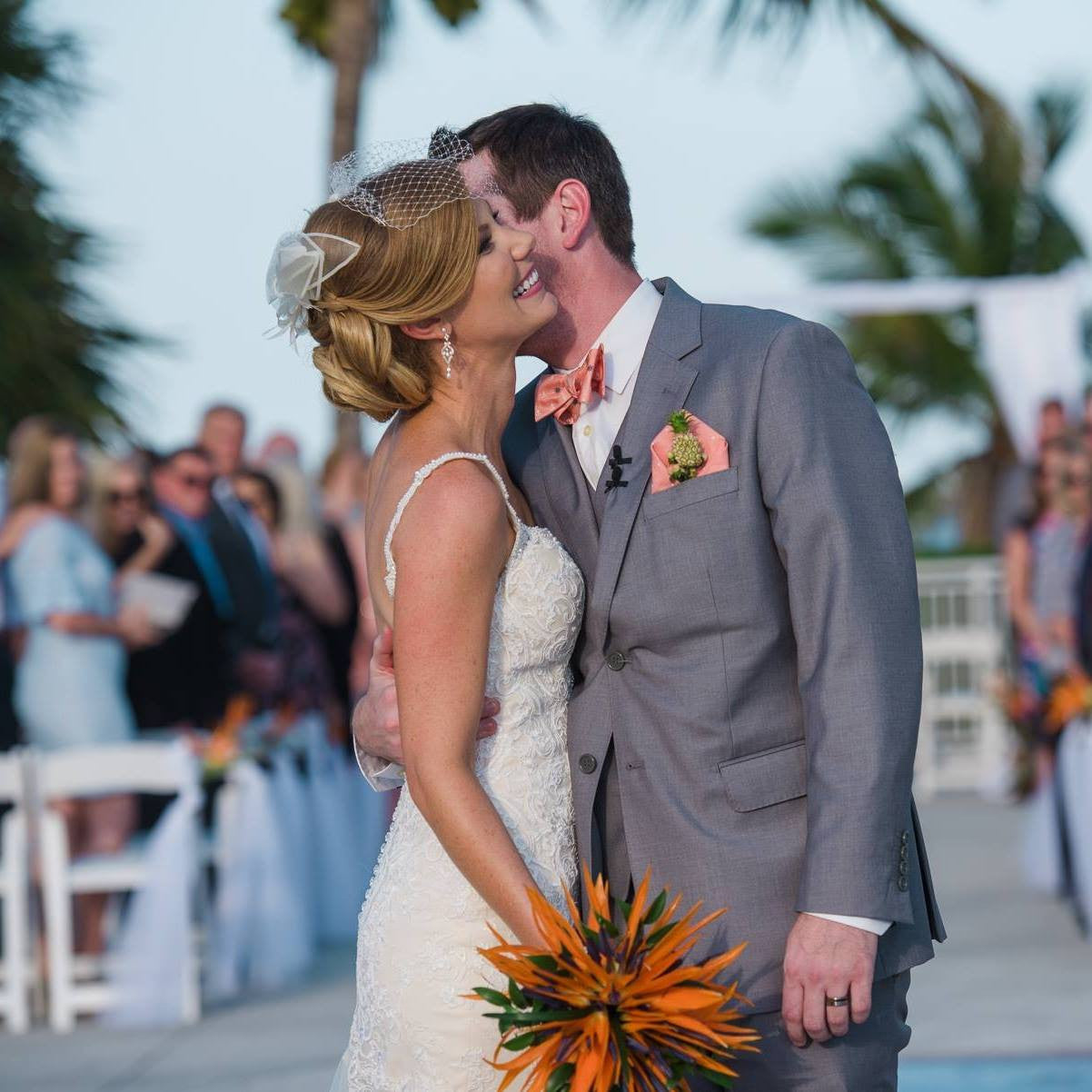 Our life really is one big party. Every week we get to celebrate the biggest day in our customers' lives. We consider it the ultimate honor to be a part of their wedding and take the responsibility of getting their guys suited up very seriously. Every couple is memorable and make us feel like we were there by sharing the most amazing photos. Chris and Michele took it one step further and gifted us with this incredible video from their gorgeous Florida wedding this spring.
We loved their wedding style! Lighter colors in brighter places make for amazing photos. The southern Florida heat put our suits to the test, but our lighter blend of fabric kept everyone calm, cool and collected. Chris shares that, "the suits were absolutely perfect for the conditions of our wedding. We were outdoors in the afternoon in South Florida and the suits just fit excellently. They breathed, they were lightweight, and they were super sharp and nice."
All fabrics are not created equal when it comes to extreme temperatures and that certainly applies to suiting for warm weddings. While 100% wool seems to be the standard fabric choice these days, there are more comfortable options. Linen is a great choice, but not terribly travel friendly as it wrinkles very easily. Cotton is cooler than wool, but a bit stiffer. In the cotton family is Chambray and in the right setting, this lightweight denim look can be fun. Surprisingly, well-balanced blend of rayon and polyester can be your best option as it is durable, soft and resilient. We know what you are thinking and yes, you heard us, polyester. It has been scorned for ages and while we'd never suggest wearing a 100% polyester suit, when blended with other fabric it is crease-resistant and extremely strong/durable, while retaining much of the comfort and softness of cotton. Rayon is a cellulosic fiber that adds the essential breath-ability to the fabric. By blending these two qualities you get a powerhouse fabric at a fraction of the price.
Not only were the guys cool and comfortable standing by Chris' side, the process of getting sized and suited up was easy and enjoyable. At TGS, our goal is to build on the excitement of the wedding by creating an enjoyable suit buying experience. One that leaves the guys stress free and looking sharp. "The Groomsman Suit really helped us out on the day that was one of the most important days of my life, and they did it from across the country," Chris concluded.