Ultimate Gray and Illuminating Yellow: How to use the 2021 Colors of the Year in Your Wedding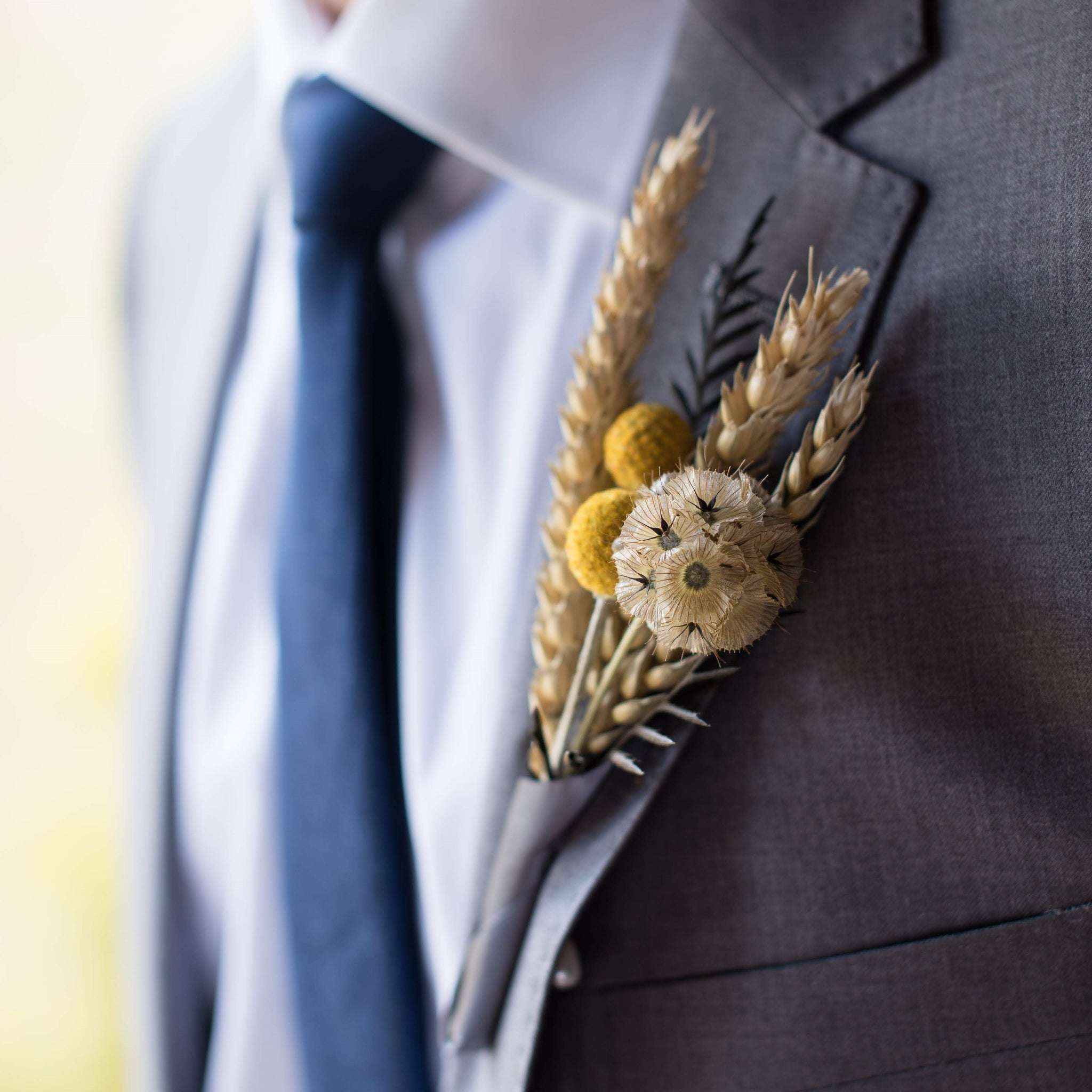 Photo Cred: Illume by Paul Reynolds
For so many reasons, we are all looking forward to 2021 with hope for the future. And, the pantone colors of the year for 2021 came in at the perfect time. Illuminating yellow screams springtime and sunshine and all things happiness while ultimate gray is comforting and grounded. The balance between these two tones is perfection. If you're looking to add these colors into your wedding theme, here are a few tips to consider:
Light Gray Suits 
We'll start with the obvious. Light gray suiting is a classic wedding suit choice and is popular for spring and summer weddings, but we've had couples suit up their group in textured gray for every season. The great thing about a light gray suit is that it's just a starting point. You can accessorize with almost any color and it will look great. 
Photo Cred: Ed & Aileen Photography
Gray Dresses
Gray doesn't have to just be a suiting color. Steel and silver were trending colors in 2020 and will continue to be in style. Whether a matte shade or something with sparkle, floor length gray dresses are elegant and the shades are flattering and are fitting for any season. 
Photo Cred: Brian David Weddings
Lemonade + Cocktails
If you're planning a backyard wedding in 2021, lemonade would be the perfect addition. Especially if you're getting married during a hot month like July or August, a refreshing lemonade would be a relief for your guests. Lemons in jars make beautiful, simple, and affordable decor on bar stations, gift tables, etc. Speaking of bars, lemons make great cocktails. If lemon flavored cocktails like lemon drops aren't your thing, use lemons to garnish the classics like a gin and tonic. Candied lemons would also be a delicious and whimsical garnish for yellow buttercream frosted cupcakes. 
Photo Cred: Shots by Bridge
Yellow Wedding Flowers
Worried that illuminating yellow is too bold for the neutral color palette you had in mind? Consider only using yellow in your floral arrangements. For the attire, classic suit colors like charcoal and navy pair well with taupe and natural toned bridesmaids dresses. For the decor, keep it simple using wood elements and creative lighting and use your flowers to make the statement. Mix yellow roses with orange dahlia or ranunculus and green leaves. Use brighter colors in your bridal bouquet and ceremony arch and deeper tones for your bridesmaids' bouquets and table arrangements. 
Photo Cred: Emily Kyle Photography
In the details
Looking to add just a touch of yellow? Use yellow font or designs on your gray invitations to make them pop. Stick with traditional white or blush boutonniere flowers and wrap them with yellow ribbon. Gift your groomsmen white pocket squares trimmed with yellow thread or canary earrings for your bridesmaids. 
Photo Cred: JJ Ignotz Photography
Ultimate gray and Illuminating yellow are a "marriage of color conveying a message of strength and hopefulness that is both enduring and uplifting." (pantone.com) From bright and cheerful yellow to natural and dependable gray, we can't imagine a better combination for 2021 weddings. For more color inspiration check out our spring 2021 wedding colors article or follow us @suitshopofficial on instagram.