Accessorizing with Classic Blue: How to use the 2020 Color of the Year in Your Wedding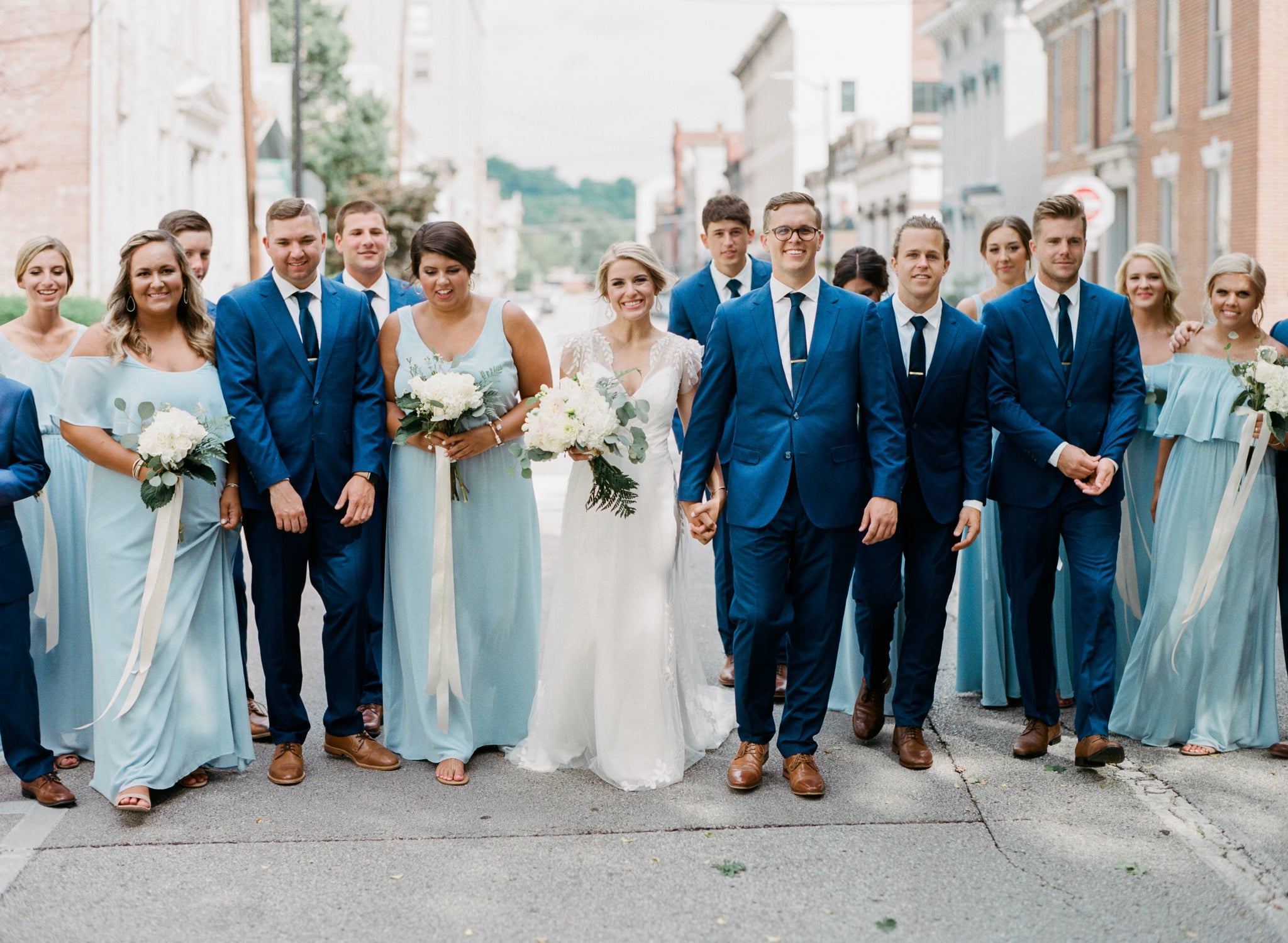 Planning a wedding in 2020? Once you've nailed down your wedding date and venue, it's time to start planning the details. What will the wedding party wear? What kind of flowers will you use? How will you decorate the space? Pantone has released their color of the year for 2020 just in time to help you with these decisions. Classic Blue is going to be the it color for 2020 and we think nothing sounds better than starting off a new year and new decade with such a calming color. There's a reason ocean waves are a popular relaxation tool, just picturing those blue waves moving in and out brings a little stress relief to the wedding planning process. And, we've got a few tips on how you can include this peaceful color on your big day. 
Stay Classic With a Navy Suit  
Leatrice Eiseman, Executive Director of The Pantone Color Institute, refers to the classic blue shade as a "dependable blue hue we can always rely on." And, what could be more classic, reliable, and dependable than a navy blue suit. After the wedding, a navy suit is the perfect option for a dressy night out, a wedding guest suit, or your 9-5 staple. (Check out our article on ways to wear a suit for more inspiration.)
Couples with a love for blue hues, like John and Ashleigh, pair navy groomsmen suits with light blue bridesmaids dresses, light blue ties, and white flowers. These classic combinations are dreamy and romantic and perfect for rustic venues and outdoor ceremonies. 
Be Bold in a Blue Wedding Suit
A brilliant blue suit is the perfect choice for grooms and groomsmen who have a lot of personality but still want to keep their look classic. Somewhere on the blue color spectrum between royal and midnight, our Brilliant Blue Suit will appear darker indoors and brighter in sunlight. Cream colored ties and floral prints pair well with brilliant blue suits. We love this color for industrial wedding venues and country club weddings. 
Show off Classic Blue in Your Accessories 
Classic blue ties, pocket squares, and socks look amazing paired with a light grey suit. The suit color is perfect in spring, summer or fall, and is always a hit with groomsmen who know they can get good use out of it again and again. Find a patterned tie for extra flair or opt for a solid tie to compliment the bridesmaid's dresses. For a more formal wedding venue, dress your light grey suit up with flat black shoes and a black leather belt. 
Use Classic Blue Flowers
A whimsical summer wedding theme is the perfect theme for blue hydrangeas and wildflowers to create pops of color in your wedding floral arrangements. Wildflower boutonnieres pair well with our light blue suit, the newest color to join our collection. Pair your light blue suit with tan shoes and suspenders. This color is perfect for destination weddings near the beach. 
If you are considering using Classic Blue in your wedding and are debating suiting colors for your groomsmen, and women, check out our Free Home Trial for engaged couples. And for style questions, reach out to us at style@thegroomsmansuit.com. We can't wait to get you suited up for the big day!