8 Budget-Conscious Tips for Planning a Fab Same-Sex Wedding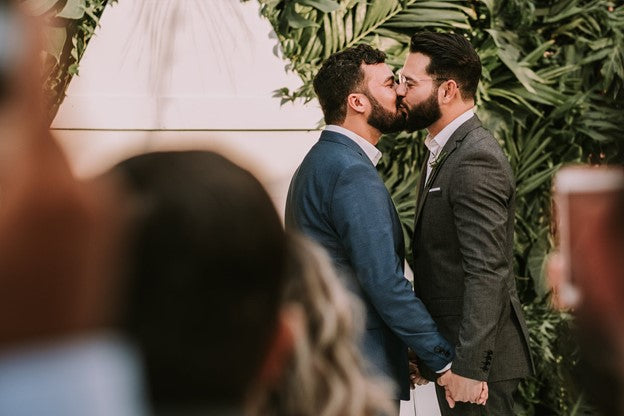 Photo Cred: Wallace Araujo from Pexels
Being engaged can make you feel like you're perpetually floating on cloud nine—until you're planning the wedding budget. A study says that weddings cost around $33,900 on average in the US. And when you're short on budget, that amount can just make you want to elope!
 
But fret not, lovebirds. Modern weddings, especially among same-sex couples, are becoming more and more experience-centric rather than traditional. This means couples can just wing it, cut down costs, and still have the best day of their lives.
 
Ready to tie the knot? Take a tip or two from this list of budget-friendly ways to plan a successful gay wedding.

Have a Sit-down Budget Talk with Your Partner
Money isn't always the most comfortable topic for discussion with your soon-to-be spouse, but it's a necessity. Consider this an exciting opportunity to test your teamwork as a couple! 
Before anything else, it's best for couples to figure out how much they're willing to spend for the event. Then, they can allocate a budget to each of these categories:
Wedding planner

Ceremony

Reception

Photographer

Dress or tux

Miscellaneous
Knowing where the money goes will help you stick to a budget you're most comfortable with.
Cut Down the Guest List
People always feel pressured into inviting everyone who knows them or their partner, but they don't really have to. After all, weddings are all about the couple.
For those who find it difficult to create an intimate guest list, here are a few questions they can ask themselves:
Is this our immediate family member or close friend?

Will I or my spouse feel sad if this person isn't at our wedding?

Is this person someone who's dear to us as a couple?
Answering yes to these questions is most likely a go signal to include that person on your guest list.
Send Wedding Invites
Photo by Karolina Grabowska from Pexels
 
Taking advantage of technology helps cut down printing costs for wedding invites. Even if you DIY physical invitations, the printing and fancy materials can add to the cost.
 
Instead, send digital invites. For those who have the budget, they can splurge on hiring an artist to personalize their evites even more. Otherwise, they can look for free wedding templates on the internet or on apps like Canva and use ones that best suit their aesthetic.
Consider Personal Venues
Skip the expensive ballroom venues. For gay couples planning to keep their wedding intimate, they may consider hosting it at their home backyard or a dear friend's restaurant.
 
If they want to go the outdoor route, even a public park can provide them with picturesque views. In this case, couples need to prepare a plan B in case of bad weather.
Ask Help from Family and Friends
Save huge bucks by enlisting the skills of close friends and family for free instead of expecting a wedding gift. Some of the items you may be able to eliminate from your budget allocation include the photographer's fees, hair and makeup, flowers, or hiring a live band.
 
This doesn't only add to the couple's savings. It also makes the event more personal and memorable for everyone.
Sell Old Stuff Online
Photo by Ketut Subiyanto from Pexels
 
For couples who want to get more income to add to their wedding budget, selling old stuff online is the way to go. Perhaps they have an old couch that won't be making it to their new home. Or they want to get rid of old china, thinking they'll receive new ones during the wedding.
 
Selling these items on an e-commerce platform will help clear up clutter in their homes. Plus, it helps them save up for the big day.
Scout for Vendors
Searching for good vendors—not to mention, looking for ones who fit the bill—is hard work. A pro tip for soon-to-wed couples is to avoid settling for the first vendor they see. There may be tons of others who offer better services and at a much cheaper price.
Don't Hesitate to DIY
When push comes to shove, you shouldn't be afraid to DIY. Putting your skills to good use is another way to cut down costs and make the wedding more personalized. After all, you're the only ones who know exactly how you want your wedding to be.
Go Get Married
How grand your wedding turns out won't equate to how memorable the event will be for you and your spouse. After all, you'll feel more secure, and much happier, with your savings still intact. Plus, you get to marry the love of your life—and that's all that matters.