2020 Wedding Trends for Groom Attire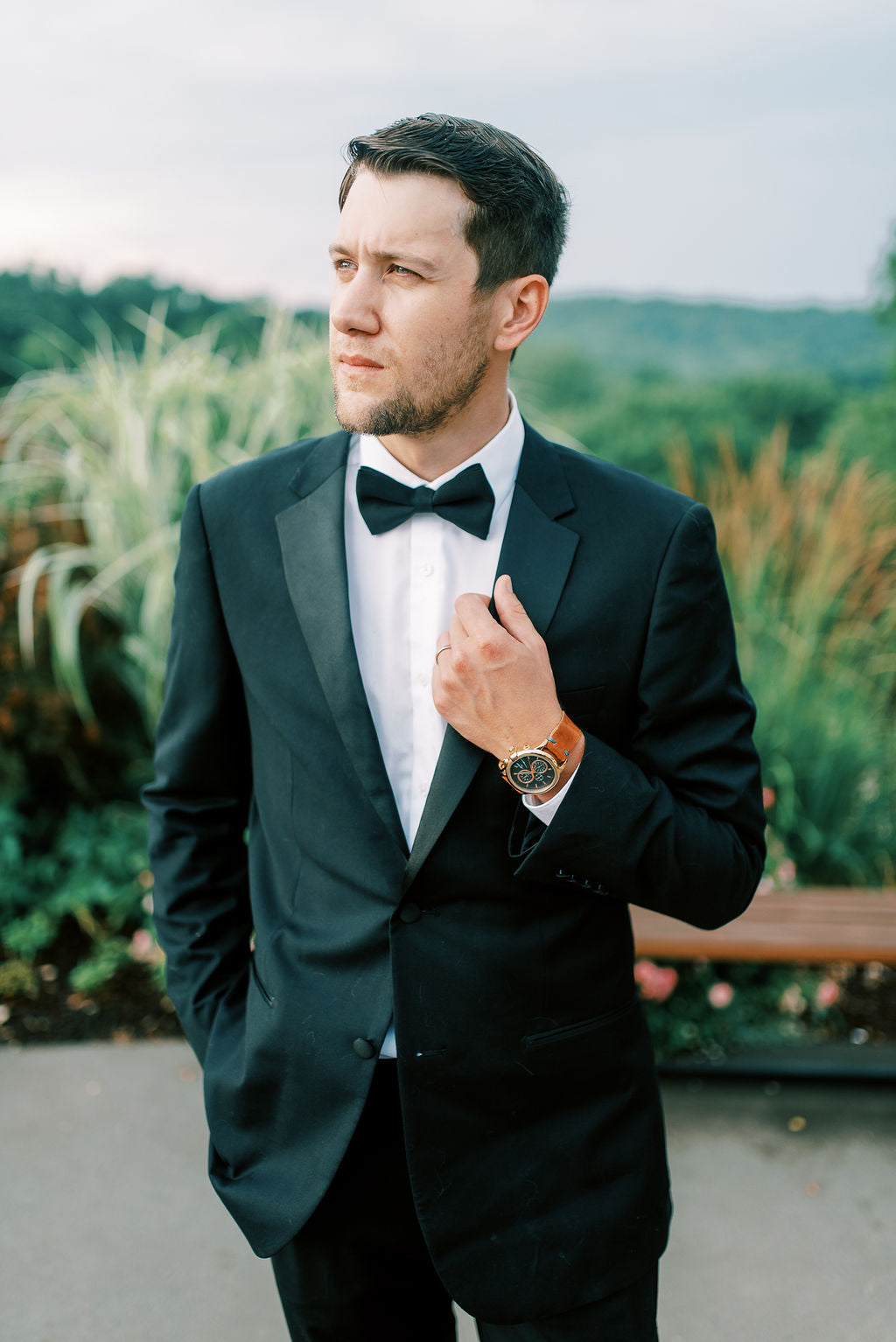 Photo Cred: JKG Photography
While you will still see photos of wedding parties in classic black suits and plain ties, this is no longer the norm. Grooms are taking more ownership in the wedding planning process and this includes showing off their unique personal style. Lighter colored suits, patterned ties, slim fit pants, and alternative materials are all showing  up in wedding day style. Here are a few current wedding suit trends: 
Dinner Jackets 
Photo Cred: Fox + Ivory
Velvet is making a big appearance in weddings these days, especially formal weddings. Consider wearing your matching suit or tuxedo jacket for your ceremony and formal photos and switch into your dinner jacket for the reception. Who said brides are the only ones allowed a second look? Make sure that the color and texture you choose complements your dress pants, shoe and tie color, and that the sleeve length is short enough to see about a half inch of dress shirt past the length of your jacket sleeve. A great part about purchasing a dinner jacket is that you can wear it later with dark denim for a date night with your spouse! 
Standing Out As The Groom 
Photo Cred: City Savvy Imaging
It's the groom's big day too and he deserves to look more unique than the groomsmen. The groom can opt to wear a different tie color, be the only one to have a boutonniere, or to wear an entirely different suit or tuxedo color altogether. It's important that the look distinguishes him from the groomsmen but also matches his brides. Often grooms will choose a white or ivory tie and pocket square to match his bride's dress while the groomsmen will wear ties that match the bridesmaids. 
Casual Style 
Photo Cred: By Julieta
From destination weddings on the beach to rustic barn weddings in the country, a wedding day look does not have to be a tuxedo. If you're opting for a more casual reception, wear a full suit but skip the tie and unbutton the top two buttons on your shirt. Consider having the groomsmen not wear a jacket at all, but a vest or suspenders instead. For a beach wedding, skip the dress shoes and opt for loafers. Make sure your pants are cuffed higher than you would if you were wearing oxfords to show off a peek of ankle. 
A Twist On Traditional Black Tie 
Photo Cred: Ashley Galminas
We don't just have James Bond to thank for the shaken dirty martini. Daniel Craig looking amazing in a navy tuxedo really popularized this style for the rest of the men. A navy tuxedo is a great option if you want to have an upscale wedding but you don't want to classify it as "black tie." A black hand tied bowtie and patent leather tuxedo shoes would make the look more formal while a skinny tie and loafers would be more informal. 
When picking out your look for the big day, consider your venue, wedding theme, time of day, and season before making a decision. For men, it's great to start planning your look six months in advance, with an intention to place an order about three months before your wedding date. For any questions regarding your wedding style as the groom or a guest reach out to us at style@thegroomsmansuit.com.